The highly acclaimed American guitarist Rachel Schiff began playing the guitar at age 5.  She began her musical education at the prestigious "National High School Music Institute" with Professor Mark Maxwell.  At the age of 16, she was awarded the Grand Prix at the a competition which was open to all instruments and subsequently enabled her to perform many concerts.  In the following years, Rachel was a repeated prize winner of the Society of American Musicians Youth Competition.
In 2005, Rachel Schiff entered the class of Professor Anne Waller at Northwestern University and completed her Bachelor of Music in 2009.  She then graduated at the world-renowned Accedemia Chigiana Musicale in the class of Professor Oscar Ghiglia with the award Diploma di Merito.  After completing her Master of Music at Northwestern University in 2010, Rachel moved to Germany to develop her artistic skills with the famous Professor Dale Kavanagh at the Koblenz International Guitar Academy. This experience gave Rachel highly valuable musical impulses, which continue to shape her playing today. A year later she began a Post-Graduate study at the Hochschule für Musik und Tanz Köln under the guidance of celebrated Argentian guitarist Robeto Aussel, which she completed in 2013 with great success. In the same year, Rachel was a prize winner at the Niksic International Guitar Competition in Montenegro, and was thus broadcast on both national radio and television live.
As a soloist, Rachel has participated in master classes and festivals with prominent musicians of the international guitar scene, such as Eliot Fisk, Alvaro Pierri, David Russel, Bill Kanengiser, Shinichi Fukuda, Raphaella Smits, Elena Papandreou, Antigoni Goni, the Brazilian Guitar Quartet and the Los Angeles Guitar Quartet.
In addition to her performances, Rachel is currently completing a Master of Arts in music pedagogy and teaching at the Heinen Musik- und Malschule as well as the Musikschule der Stadt Hennef.
Gitarren Meckbach
Lindmaier-Schiff Duo: All about dance!
Limited tickets available, please reserve here.
Berlin, Germany
Concert at the Trinitatiskirche
Duo Meraki with Yan Kok: Metamorphosis
Bonn, Germany
KunstSalon: Musik in den Häusern der Stadt
Duo Meraki with Yan Kok: Metamorphosis
Cologne, Germany
Concert postponed – new date to be announced soon!
Le Chat Noir
Lindmaier-Schiff Duo: All about dance!
Essen, Germany
Scarlatti: Sonata, K. 322
Recorded November 2017
de Falla: Homenaje
Recorded November 2017
Excerpts from a live concert in September 2017 at the city museum of Siegburg (DE).
Excerpts include:
Isaac Albeniz: Asturias
Manuel de Falla: Homenaje
Emilio Pujol: Cubana
Isaac Albeniz: Torre Bermeja
Albeniz: Mallorca, op. 202
Recorded July 2017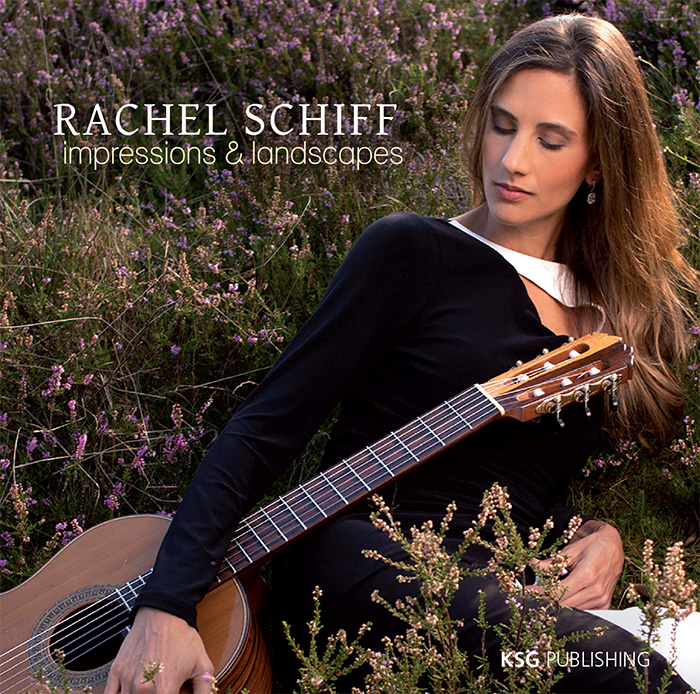 Capturing energetic melodies, fiery rhythms and colorful harmonies of the Spanish tradition, highly-acclaimed American guitarist Rachel Schiff's debut album Impressions and Landscapes features Spanish music of the 20th century, much of which was inspired by the landscape of Spain. Noted for her imaginative performances and musical sensitivity, Rachel presents both highlights of the guitar repertoire and rarely-performed works.
Albéniz: Asturias (Leyenda)
Albéniz: Mallorca (Barcarola)
Albéniz: Torre Bermeja (Serenata)
Pujol: Barcarolle
Pujol: Cubana
Pujol: Romanza
de Falla: Hommage pour le tombeau de Claude Debussy
Rodrigo: Tres Piezas Españolas: I. Fandango
Rodrigo: Tres Piezas Españolas: II. Passacaglia
Rodrigo: Tres Piezas Españolas: III. Zapateado
Rodrigo: En los trigales